Appropriation, responsabilité et équité
Présentation
Les enjeux en matière d'appropriation et de responsabilité se sont significativement enrichis ces vingt dernières années dans le domaine des activités maritimes et de la gestion des espaces marins et littoraux. L'augmentation des pressions sur les écosystèmes et les espaces côtiers et marins se traduit par une hausse des demandes de droits d'accès, tandis que le renforcement parallèle des objectifs de sécurité, de sûreté et de qualité environnementale conduit à une limitation de l'exercice de ces derniers.
Cette évolution a des implications importantes en matière de recherche scientifique. Elle conduit en premier lieu à dépasser les approches sectorielles au profit d'approches plus intégrées en matière d'analyse de l'exploitation des ressources marines et de la gestion de l'environnement. Elle amène également à considérer l'émergence de nouveaux instruments au sein des politiques publiques encadrant les différentes activités maritimes comme la planification de l'espace maritime par exemple.
Quant à la notion d'équité, il s'agit en premier lieu de mettre en valeur la multiplication de travaux étudiant les enjeux de répartition (moyens de production, revenus, ressources, espaces), ou la reconnaissance du rôle des femmes dans le fonctionnement du secteur des pêches. Il s'agit également d'ouvrir le spectre des recherches vers de nouvelles thématiques comme l'appropriation sociale à travers les mobilisations et les controverses environnementales, les inégalités environnementales ou encore les nouveaux modes de partage des richesses issues de la fiscalité locale littorale. Les champs disciplinaires concernés sont : l'économie des ressources naturelles, l'économie de l'environnement, l'économie institutionnelle, l'économie publique locale, le droit de la mer, le droit de l'Union Européenne, le droit maritime et le droit de l'environnement, l'anthropologie et les sciences politiques.
Blue Justice webinar series
SEries of QUestions on Equity at sea
As a provider of energy, goods and services, and a vector for trade, the ocean is already an essential component of global economic development, and this is expected to increase in the coming decades. This growth of the so-called "blue economy" is associated with the generation of wealth and employment, and changes in ways of life for coastal and maritime people and communities. It also comes with multiple claims on the ocean for food, material and space, and with a growing human footprint and degradation regarding      the functioning of marine ecosystems and the contributions to people they support. The ocean is mainly seen as a commodity in the perspective of the "blue economy", underlining developments since the enlightenment that consider human beings and the (marine) environment as separate entities. These developments raise the questions of how we want to shape or change our human-ocean relations in times of socio-ecological crisis, and address issues of access regulations and liability, as part of policies designed to ensure the sustainability of the blue economy, within and across multiple sectors. A key question in thinking about such regulations is that of equity considerations, and how these can affect the capacity for long-term collective management arrangements and the ocean as common good to be sustained. There is a long research tradition on these      questions in the social sciences, which can help inform current debates on how such considerations can best be addressed.
The Blue Justice webinar series aims to establish a scientific forum to present and debate disciplinary and interdisciplinary perspectives and empirical case studies regarding equity at sea. Scholars from a wide range of      perspectives in the social sciences are invited to present work ranging from the review or development of conceptual work to applied research, in short (maximum 25mn) presentations, that are followed by a moderated discussion, the total duration of each webinar being limited to 1 hour.
The webinar is sponsored by the AMURE joint research unit in Brest, Kiel Marine Science and the OMER Research Network.
#3 – June 26, 2023, 2:00 PM (France)

With Thomas Leclerc, Lecturer in public law, Université de Bretagne Occidentale, UMR AMURE :


Resources in Areas Beyond National Jurisdiction: a Legal Quest for Equity at Sea?
The international legally binding instrument on the conservation and sustainable use of marine biological diversity of areas beyond national jurisdiction (BBNJ Agreement) has been designed and negotiated, for many years, to constitute a coherent legal framework for the conservation and sustainable use of living marine resources of the high seas, the seabed and their subsoil beyond the limits of national jurisdiction. This legal framework aims to propose a new series of legal principles and mechanisms whose integration into the pre-existing conventional, normative and institutional environment appears nevertheless complex.

In the context of the ongoing adoption of this BBNJ Agreement, this webinar propose to present and debate legal perspective regarding the regime of exploration and sustainable use of – living or mineral – resources in areas beyond national jurisdiction, in light of equity considerations.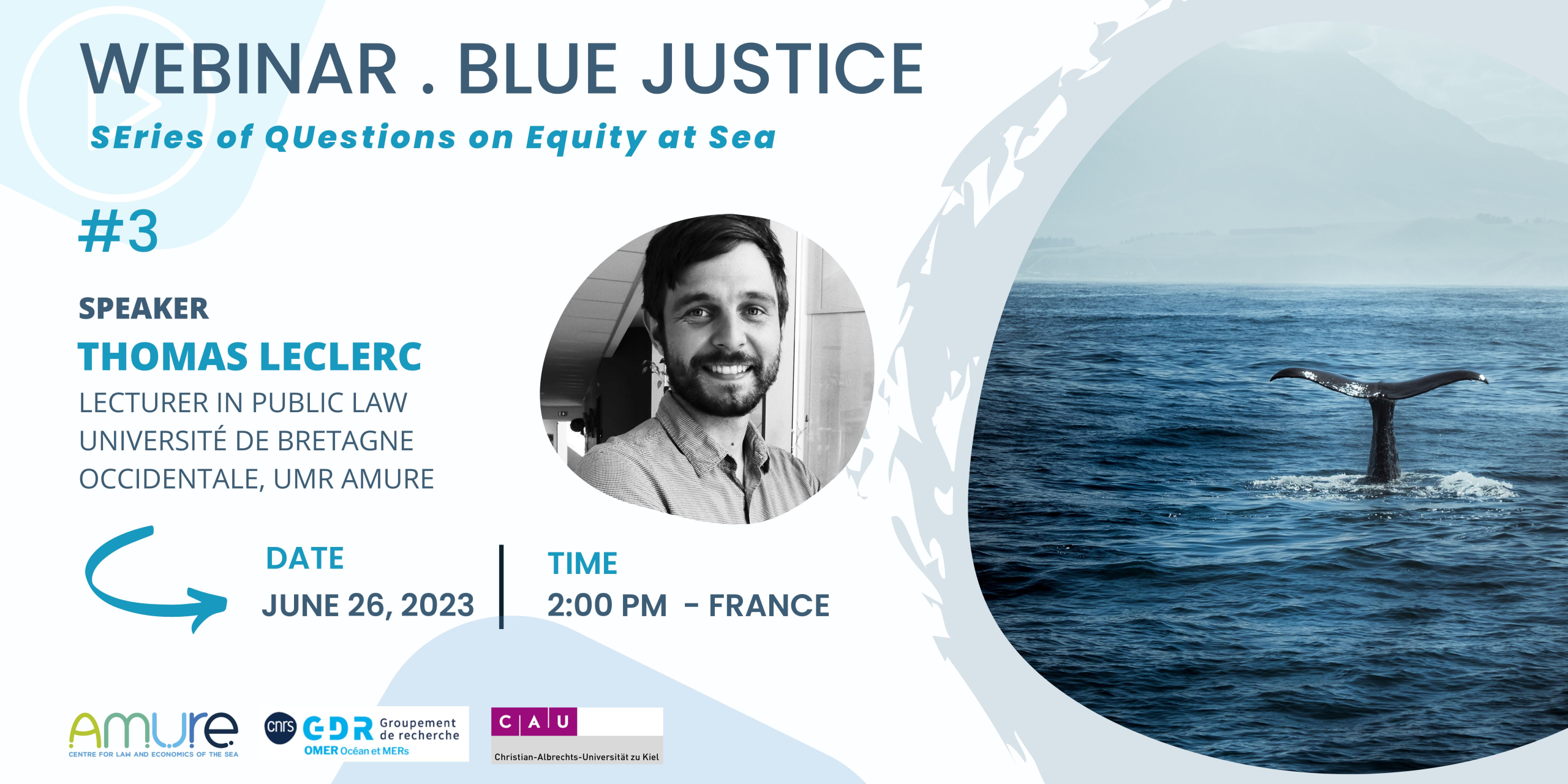 #1 – March 14, 2023, 2:00 PM (France) – Podcast available

With Dale Squires, Program Lead, Economics and Social Science, NOAA :


Sharing the benefits from the global commons: deep-seabed mining.
Benefits from the global commons, including from vaccines and deep-seabed, celestial, fishing, genetics, atmospheric, and polar resources, require sharing, but how? Benefits distributed through international organizations require distributive justice to achieve the requisite multilateral cooperation. We define and quantify local distributive justice for deep-seabed mining royalty distribution rules incorporating fairness, equity principles, and  'Equality of What' through equality of outcome and opportunity, with implications for global collective action through international organizations. We implement the Common Heritage of Mankind, an ethical concept and international law principle, for global collective action with transnational public goods and common resources in areas beyond national jurisdiction collectively owned by humanity.
#2 – March 15, 2023, 2:00 PM (France) – Podcast available
With Dale Squires, Program Lead, Economics and Social Science, NOAA :


Ethical Preferences for Global Collective Action: Evidence from the United Nations.
Treaty-based international organizations conduct much of the collective action managing the global commons of transnational public goods and common resources. International treaties and organizations require ethical preferences for inequality aversion for equitable policy and treaty design and impacts. International law requires State, not individual, ethical preferences for equitable global collective action through these treaties and organizations. State revealed ethical preferences establish focal points for negotiated stated preferences. Estimated revealed ethical preferences for relative inequality aversion from the United Nations regular budget scale of assessments, given by the elasticity of social marginal utility of consumption, show fair bargain and global commons' additive logarithmic social welfare function.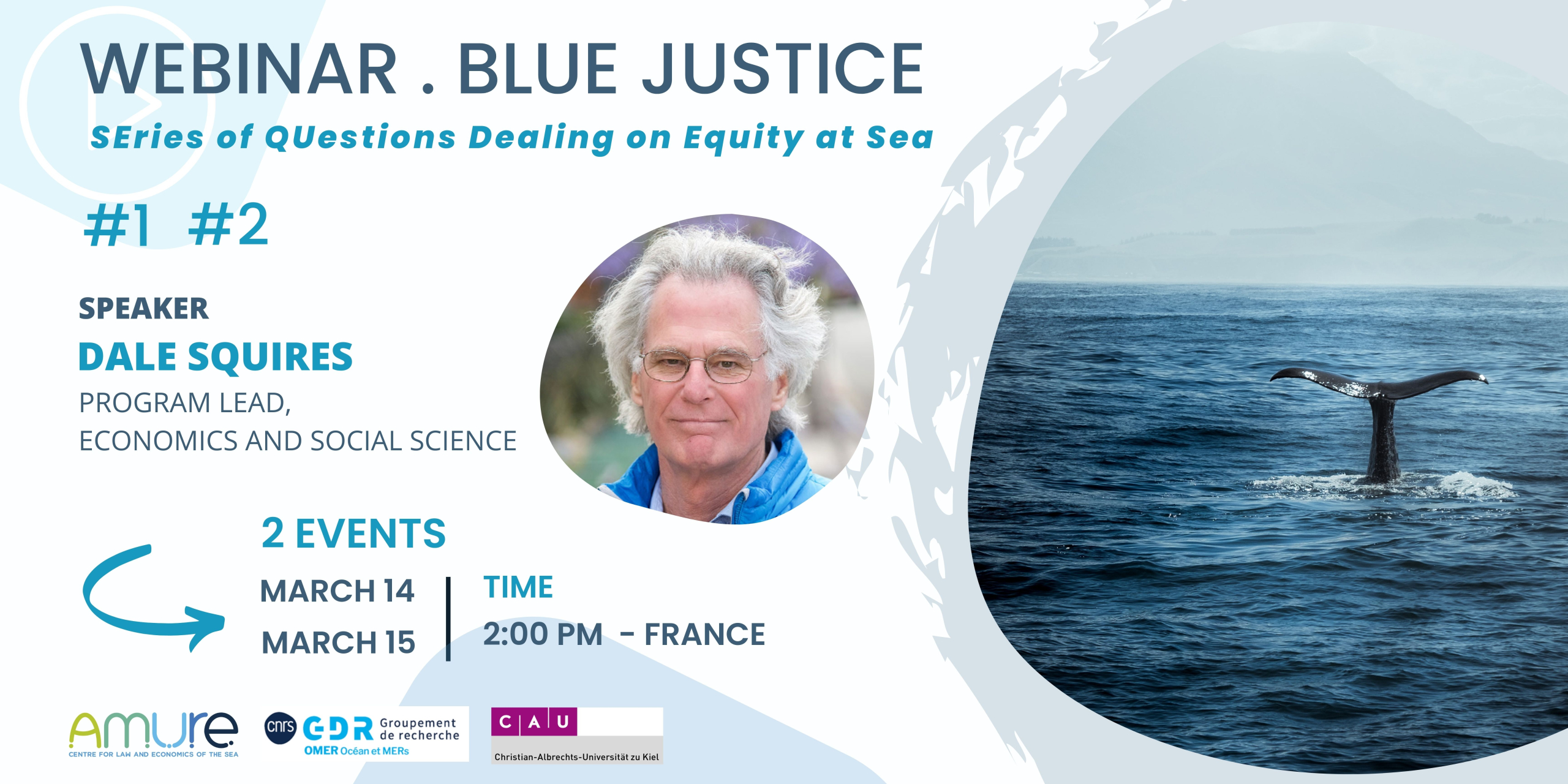 Betty Queffelec, University of Brest, AMURE,

Olivier Thébaud, Ifremer, AMURE,

Marie-Catherine Riekhof, Kiel University, KMS,

Konrad Ott, Kiel University, KMS,

Silja Klepp, Kiel University, KMS
Registration :  Google form
Participation is free but registration is required.
The connection link will be sent to you by email.